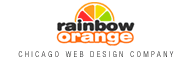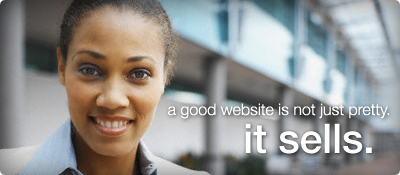 We design beautiful web sites and we develop user friendly web sites too. Rainboworange is a website design company located in Chicago. Although our head office is based in Chicago, we successfully work with clients from all over the world.
Website Design - How to find a web designer

So you need a designer. Who's right for the job?
As with filling almost any position, referrals are your safest bet. Ask your business colleagues who built their company's site.
You can also visit the websites of companies that match the size of your own. If you like the look and functionality of the site, check the site to see if the designer is listed. If not, you'll probably have to make a phone call.
Then it's time to do your homework. Find out if the designer has his or her own site; a worthwhile one will. Take a good look at it. Often, a website professional's own home page will give you enough insight to save you the time and cost of a phone call. At the very least, the site should tell you where they are located and exactly what type of services they provide.
No one to ask for referrals? You can always turn to the Web. Online directories can help you locate a website professional located either in your area or worldwide. You'll want to be a bit more vigilant about screening, though.
It's not necessary to hire someone near your office, since you can view the site through your Internet connection as it is being built. But if you feel most comfortable with regular face-to-face contact, by all means choose a professional in your area.
To find the right website professionals, use techniques similar to those you'd use to hire any other type of contractor.
(For the sake of convenience, we are referring to the individual as a web designer, not developer. But this section includes points for asking about web developing services, too.)
Look at their past work. Have they worked on websites that resemble the site you have in mind for your company?
Look at the contender's own website; if it's not top-notch, move on. If they can't effectively market their own services through the Web, how will they market yours?
Determine who will be doing what. If you are contracting an individual to design your website, find out exactly what services he or she can provide. Are they capable of developing the back-end functions of your website to make it e-commerce ready? Or are they able to only redesign the look of your site?
If you are contracting a web design company, ask about their specific services. Will they be able to take the project from start to finish, or will you need to seek additional contractors to complete the job?Also, find out which specific employees will be assigned to your project, and ask about their individual experience.
Check references. Former clients can give you the real scoop on what it was like to work with this particular website professional. Get at least three, and ask them specific questions:
Did they meet deadlines?
Were they flexible?
Did they set and meet realistic goals for your company?
Would they work with this contractor or firm again?
What team members were responsible for which parts of the site?
Agree on costs. How do they charge for their services? By the hour? Flat fees? Do different team members command different hourly rates?
Get an exact estimate for how long it will take to complete the project, and at what cost. Include the agreed-upon dates in your contract and provisions for what will happen if these dates are not met.
Are your goals in line? Confirm that they understand your business objectives and your customer base - don't be afraid to ask that outright.
If they dismiss this question as insignificant to the design of your site, find another designer. A good web professional will either come into the interview with a good sense of what your business is about, or will at least be eager to learn.
Make sure you can periodically view the progress of their work as the site is being designed and built. You'll also want to have final approval on each stage of the project.

Things you have to know before you can make an informed decision.